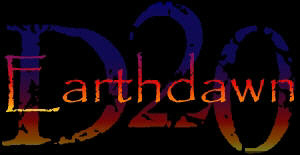 "Hello, young one, I'm the Sage Jaron. What 's that you say, you're looking for, adventure? Well, you came to the right place! It's a brand new world out there waiting for the next generation of heroes to carve the future out of the bones of the past. Now not so fast you need to understand the rules of this world of ours. Learn now, fight tomorrow!"
-Sage Jaron

Welcome to the home of Earthdawn D20, a conversion of FASA's Earthdawn 1st edition to the D20 System.

The Project: I'm attempting a conversion of the entire Earthdawn 1e book to the D20 system. The abilities are switched over to their D20 counterparts. The races are all being created in bulkier (+2 modifier total instead of balanced) Earthdawn format. I'm converting the disciplines to 20 level core classes. The talents are becoming a mix of skills, feats, and class abilities. Skills will become D20 skills. Spells will become D20 format however there will remain only 8 levels of spells because I'm using a magic system based more on the Earthdawn system. Karma points and strain are surviving relativity untouched. Hit points are scrapped in favor of the Vitality Point / Wound Point that closely retains the Earthdawn feel.
The Future: After the conversion is up in draft form I'll be making revisions based on personal play testing and your suggestions. Also I hope to create more D20 material for the setting and do some CC2 mapping.

Update (7/30/2001) - Yeah! Hit 2000 on the counter. Thanks to everyone that has looked at my page. Keep coming back because those Talents etc. are getting there.
Update (7/30/2001) - Added a graphic for the Guest Book.
Update (7/29/2001) - Added a guest book, so please post a message! Got a nice amount of work. The Talents, Skills, Classes, Karma, VP / WP System, and Recovery Tests should be typed up soon.
Your suggestions will be extremely valuable to me, so please comment on my conversion at Earthdawn_D20@hotmail.com.